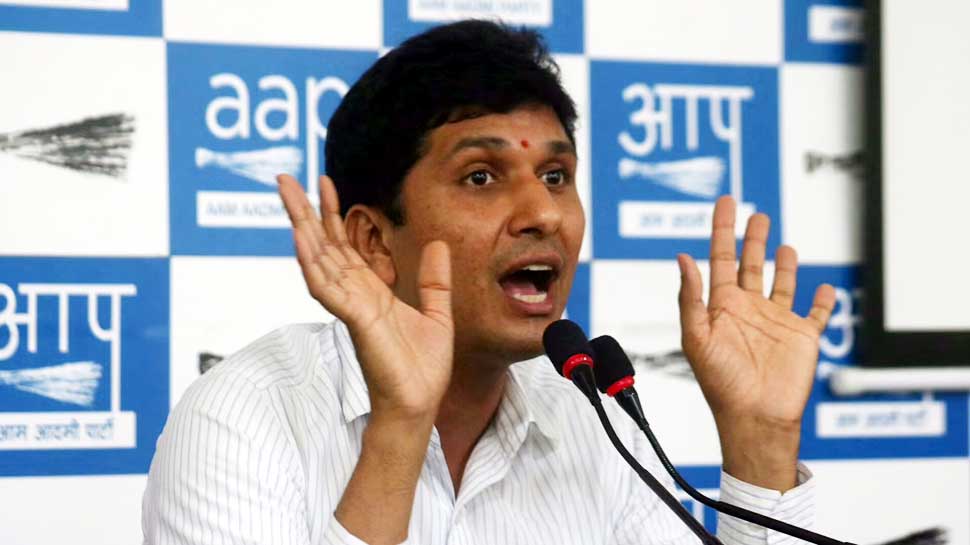 new Delhi: Aam Aadmi Party (AAP) Spokesperson and MLA Saurabh Bhardwaj ()Saurabh BhardwajBJP ()BJP) Not only responded to the allegations, but also Uttar Pradesh (Uttar Pradesh) Also challenged the Yogi government.
Actually, the oximeter (Oximeter) And infrared thermometer (Infrared Thermometer), Saurabh Bhardwaj said that BJP is lying. And if he has any evidence, then he came out with them. Bhardwaj said that at what price the infrared thermometer and oximeter was purchased in Uttar Pradesh, keep the details of every month and bill in front and compare it with the price at which they were purchased in Delhi.
AAP always buys thousands of goods
Not only this, Saurabh Bhardwaj also alleged that the bill being tweeted by the BJP leaders is fake. The government never buys one or two infrared thermometers or oximeters, instead it purchases thousands of them. Bhardwaj told that the Health and Family Welfare Department of Delhi Government has purchased two types of pulse oximeters. One of these is a pulse oximeter with finger tip and the other is a table top pulse oximeter. Most pulse oximeters have been purchased with finger tip.
Also read: – Where the thickest person is considered 'Hero', the most beautiful girl is married
Delhi government released data
At the same time, some table top pulse oximeters have also been purchased for use in the newborn hospital. Table top pulse oximeters are very different types than finger tip pulse oximeters. Finger tip pulse oximeters have been purchased more, which have been purchased at the rate of Rs 355 to 1383. All of these have been purchased at different times, as per availability on GEM. Table top pulse oximeters have been purchased at the rate of Rs 66,320, their MRP was 90,000. All pulse oximeters have been purchased through GEM.
Also read: – Know! Agency gives so much money to bring LPG cylinder itself, learn rules
Delhi BJP Vice President made these allegations
Let us tell you that Delhi BJP vice-president Rajiv Babbar has demanded a probe into the health equipment purchased during the Corona era along with accusing the Delhi government of scam. He alleged that during the Corona period, the oximeter, which was available for Rs 1000-2000, was bought by the Delhi government for Rs 66,320. He also said that the leaders of the Aam Aadmi Party are falsely propagating the Delhi government model by going to different states. It is very sad that when people of Delhi were struggling with Corona, instead of strengthening the health facilities, there was a scam in the purchase of health equipment in Delhi.
Live tv
.