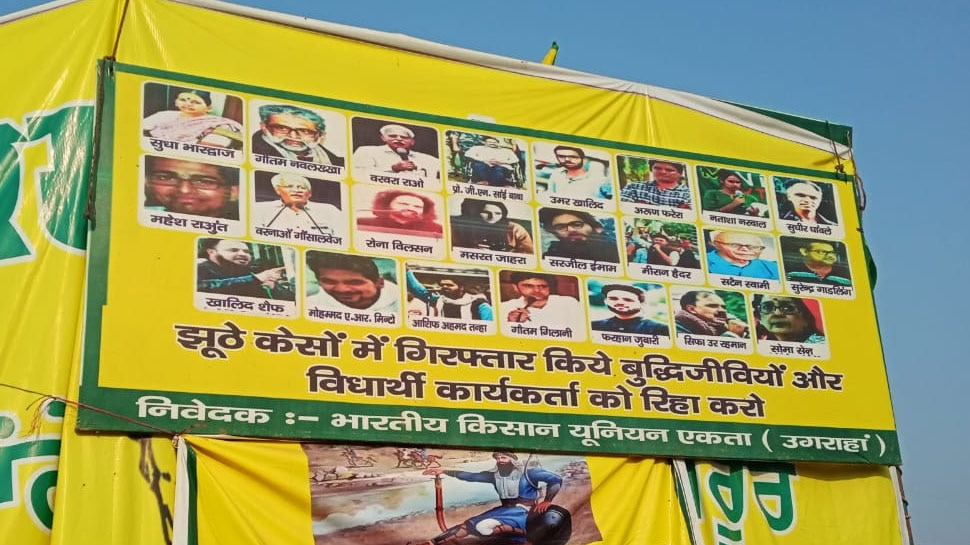 new Delhi: Khalistani and jihadist organizations are also trying to make inroads in the ongoing Farmers' Protest against the new farm laws passed by Parliament. Offensive banners appeared on the stage of the farmers who are staging the Delhi's Tiki border on Thursday. In this banner, there was a demand to release the accused of treason accused as heroes of the revolution.
Treason accused put banner on stage
According to the information, Bhartiya Kisan Union Integration Ugrahan is also giving its sit-in strike in the name of Farmers Protest at Tikari Border. This organization has made its stage near the border. On the occasion of International Human Rights Day, a banner was put on the stage on Thursday. This banner had the names of all the accused of treason.
Photos of Omar Khalid, Sharjil Imam, Gautam Navlakha
Riot accused Umar Khalid, Sharjil Imam in the bannerSharjeel imam), Gautam Navlakha, Sudha Bhardwaj, Varvara Rao and Anand Teltumbde were photographed. At the same time it was written that release intellectuals and students arrested in false cases. The people present there also raised slogans for the release of these accused in the name of Kisan agitation.
Banner is still on stage today
Surprisingly, this banner is still on the stage without any fear. While all the accused are on trial for breaking the country, disturbing communal harmony in the country, conspiring for jihad and conspiracy for terrorist activities, all of them are lodged in different jails of the country. Some of them have been released on bail, while many are still lodged in jails.
read this also- Delhi Riots: Omar Khalid and Sharjeel formed 'Muslim Student Group', conspiracy like this
Slogans of farmers in support of the accused
Activists of Bhartiya Kisan Union Integration Ugrahan, who gave the platform to the traitor accused for their activities, shouted slogans saying that these people have fought the battle of people and forest. That is why the government has framed them wrong. People said that the government should release these social workers from jail as soon as possible.
Live tv
.