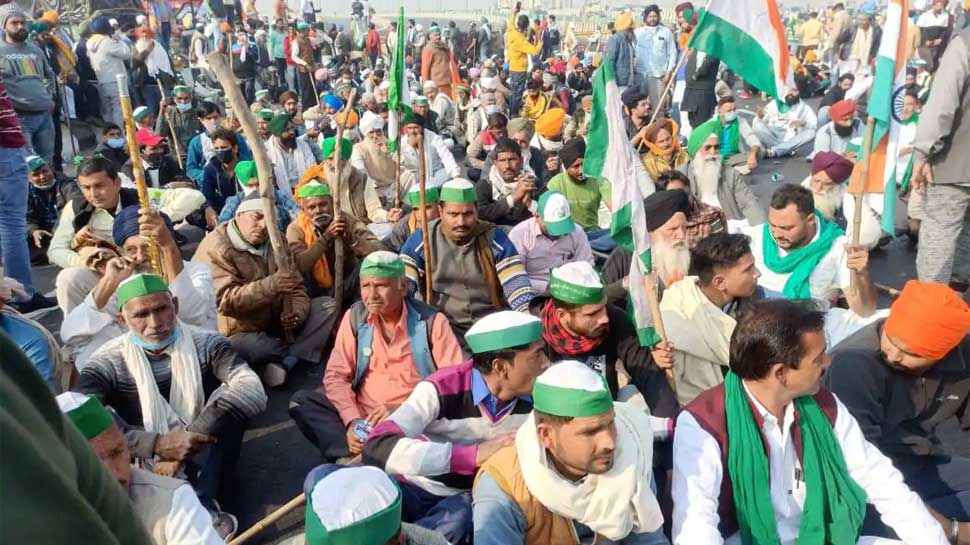 new Delhi: A day after the Bharat Bandh, the sixth round of talks between the farmers and the government on the new Agricultural Law (Agriculture Law) to be held today (Wednesday) has been postponed. The talks between the two sides can now be held on Thursday. Meanwhile, the farmers' agitation continues on the 14th day in protest against the agricultural laws and the farmers are still sitting on dharna on the borders of Delhi. Due to this, the borders of Delhi adjoining Haryana and Uttar Pradesh will remain closed even today.
Meeting with Amit Shah inconclusive
Demonstration against agricultural laws (Farmers Protest), There was a new twist on Tuesday late evening when suddenly Union Home Minister Amit Shah (Amit Shah) Came the news of a meeting of 13 farmer leaders. 8 of the farmer leaders were from Punjab, while five were from other farmer organizations across the country. The meeting started at eight o'clock at night, but this conversation was also inconclusive.
Also read- Farmers Protest: Anna Hazare came out in support of farmers, said big thing about the movement
live TV
Government will send proposal to farmers today
In the meeting with the Home Minister, the farmer leaders discussed their concerns related to the new agricultural law and the government's side. When the farmer leaders came out of the meeting, the most important things came out. According to him, the government is not ready to withdraw three new agricultural laws. According to the demand of farmers, the government is ready to amend the law. The government will send its proposal to the farmers today.
Also read- disputed words of NITI Aayog chief Amitabh Kant – 'India has more democracy'
Farmers' organizations will meet on the Singhu border
To discuss the government's proposal, the Singhu Border of Farmers Organizations (Singhu border) But there will be a meeting today, in which the forward strategy of the movement will also be discussed. After the meeting of 40 farmer organizations, the farmers will decide whether to have further talks with the government or not. Considering the attitude of farmers who are adamant on withdrawing the new agricultural laws, it is also being feared that the path of further dialogue between the government and the farmers may be difficult.
The opposition's delegation will meet the president
Today, the opposition delegation will meet President Ram Nath Kovind to protest against the new agricultural laws. Due to the Corona protocol, a large number of leaders are prohibited, so Congress leader Rahul Gandhi, NCP chief Sharad Pawar and CPI (M) General Secretary 5 leaders including Sitaram Yechury will meet the President.
.

Source by [author_name]