Samco is the best equity broking house ward winning Discount stockbroker, and India's fasted growing stockbroker good for traders who look for low brokerages, high margins, and Opening paperless Account within 5 Minutes.
SAMCO Introduction
SAMCO incorporated in March 2015. The company was founded by Jimeet Modi who is currently the CEO of the company. It acquired Samruddhi Stock Brokers Limited and re-branded it to SAMCO Securities. In May 2015. SAMCO Offers Online Stock Trading, Commodity Trading, Currency Derivatives Trading, Mutual Funds, And Demat Account. SAMCO Is A Member Of NSE, BSE, MCX, NCDEX, NSDL, And CDSL.
SAMCO offers low-cost trading services. The equity delivery (cash & carry) trading is offered for free to the customer. No brokerage is a charge for orders placed in this segment. For all other trading segments across the exchange, SAMCO charges flat Rs.20 per trade brokerage.
Why should you open a demat account in SAMCO?
With Samco, you can start trading in stocks, derivative, commodities, and currencies with a broking house having over 5 years in the market. Here are a few of the key factor about Samco:
A Zero Balance Trading Account
Offering low cost brokerage service
Get Delivery Trades Funded 4X leverage
Flat Rs 20 per trade for Intraday, Futures & Options, Commodity and currency trading.
Paperless instant account opening in less than 5 Minutes
Apply in IPO's online through your bank by linking your demat account
Offers the highest leverage among discount brokers.
In-house build trading platform available for free to all customers.
Services Offered: Samco offers its services in Equity, Commodity, Currency, & Mutual Funds
SAMCO Product Offerings
Online Trading

Equity Trading at BSE, NSE
Commodities Trading at MCX
Currency Trading at NSE

Depository Services (Demat Account)
Leverage Products

CashPlus (Delivery margin funding with 4x equity delivery leverage)
StockPlus (Margin against shares trading account)
InstaPlus (Margins against shares for Intraday Trading & F&O)
Brokerage Charges:
| | |
| --- | --- |
| PRODUCTS | BROKERAGE |
| DELIVERY | Rs.20 per executed order or 0.2% whichever is lower |
| INTRADAY | Rs.20 per executed order or 0.02% of gross turnover whichever is lower |
| FUTURES | Rs.20 per executed order or 0.02% of gross turnover whichever is lower |
| OPTIONS | Rs.20 per executed order or 0.02% of notional turnover whichever is lower |
| COMMODITIES | Rs. 20 per executed order. |
| CURRENCY FUTURE | Rs.20 per executed order or 0.02% of gross turnover whichever is lower |
| CURRENCY OPTION | Rs.20 per executed order or 0.02% of gross turnover whichever is lower |
Way of open demate Account and Documents required
3 simple way to open account with samco
Download Form and fill the requirement Data and send to SAMCO Office
Go to SAMCO Mumbai Office
1 Online Account Opening (Paperless )
You could open an online trading account instantly in less than 5 minutes if you have your aadhar linked with your mobile number. This paperless process has 2 main parts:
eKYC (Know your customer)
eSignature (Aadhar based electronic signature on your form)
Step 1: Visit www.samco.in and click on Open An Account button on the top.
Step 2: Fill in the registration form. The registration form has 3 fields – Name, Email ID, Mobile Number. Fill in these details carefully.
Step 3: Set your new registration password and confirm.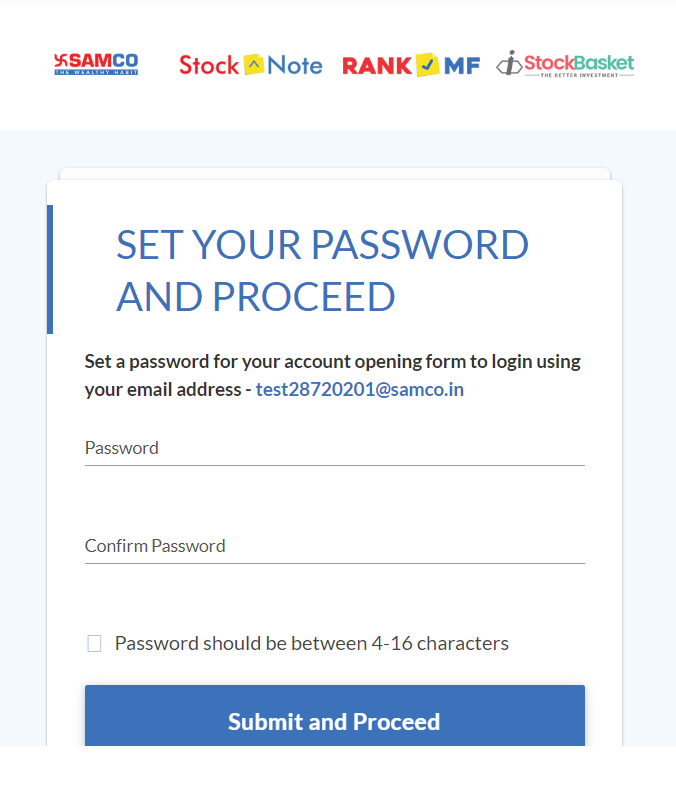 Step 4: Enter your PAN info and your date of birth as per your PAN.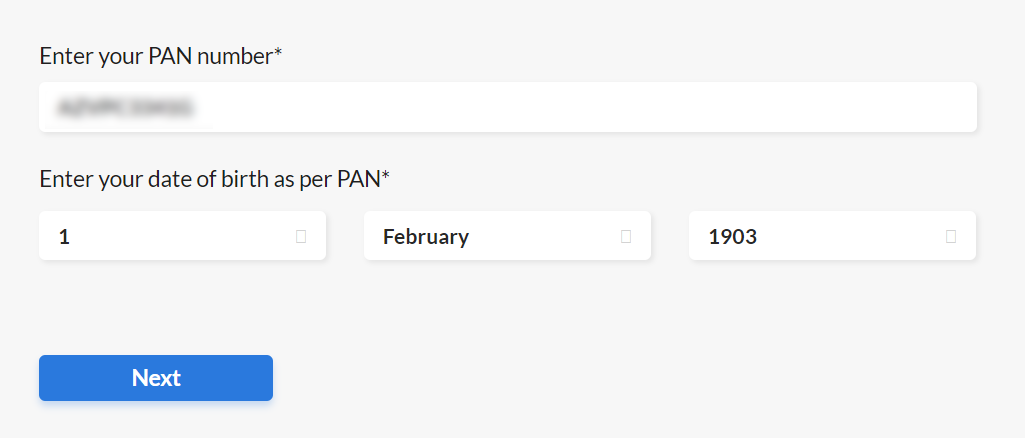 Step 5: Fill your personal info in the given fields.
First Name
Last Name
Father's Name
Gender
Marital Status
Annual Income
Occupational Details
And click on Next.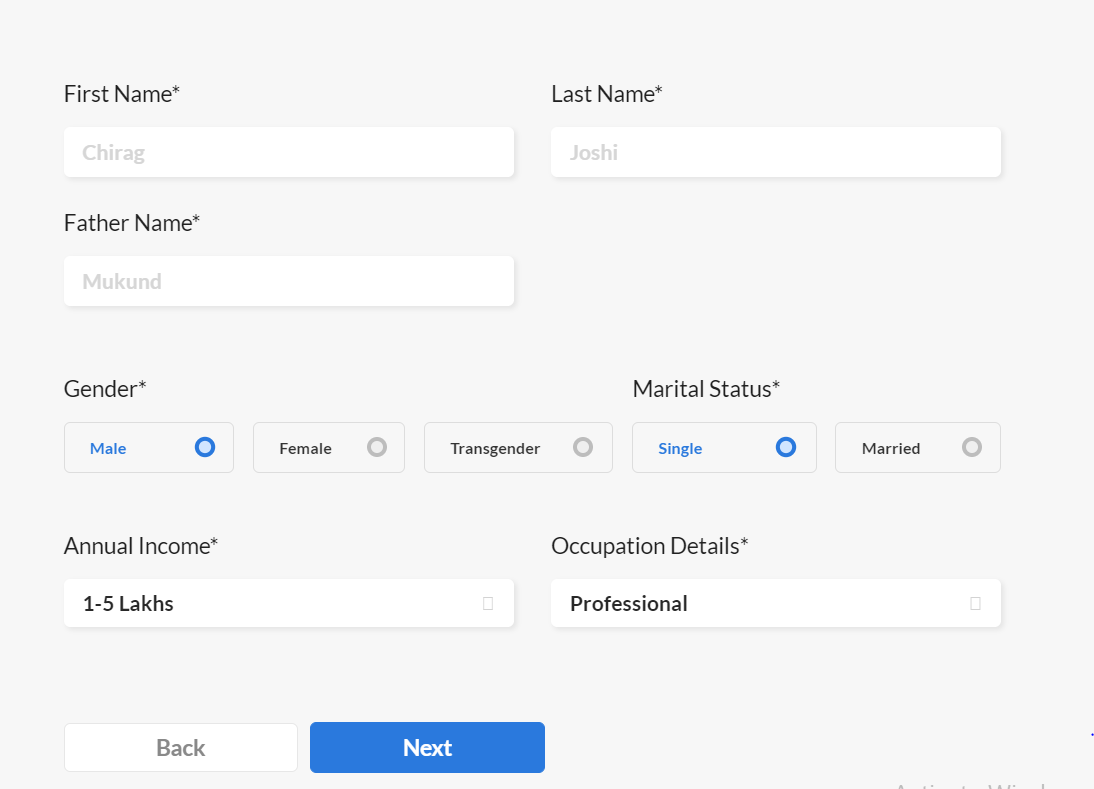 Step 6: Enter your residential address as per your address proof.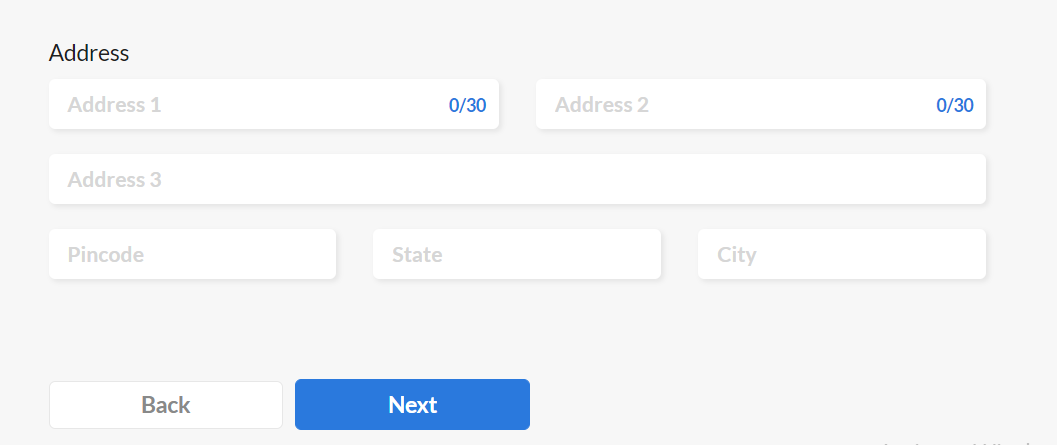 Step 7: Verify your registered email ID either with OTP or using Facebook or Google login.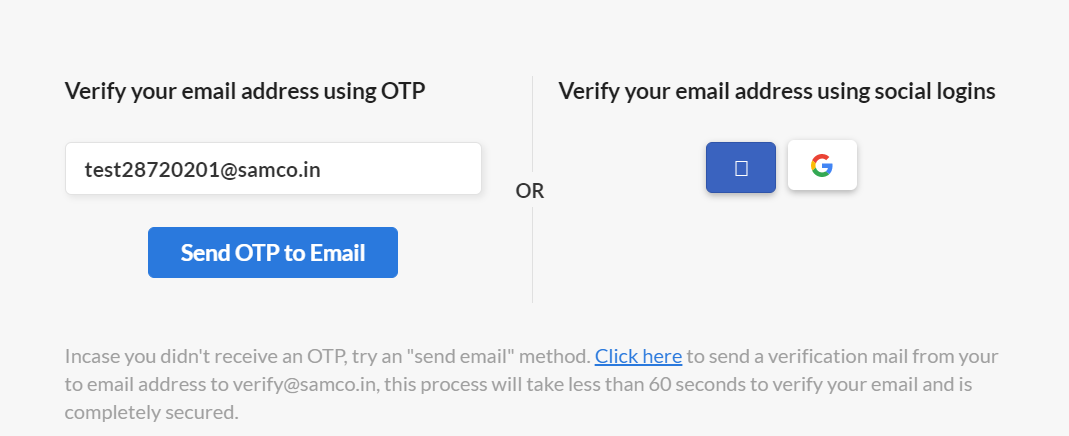 Step 8: Enter the bank details that you wish to register with your trading & demat account. After submitting the proper details, we'll credit you with a small token amount to verify your bank account. (Please enter the decimal values, too)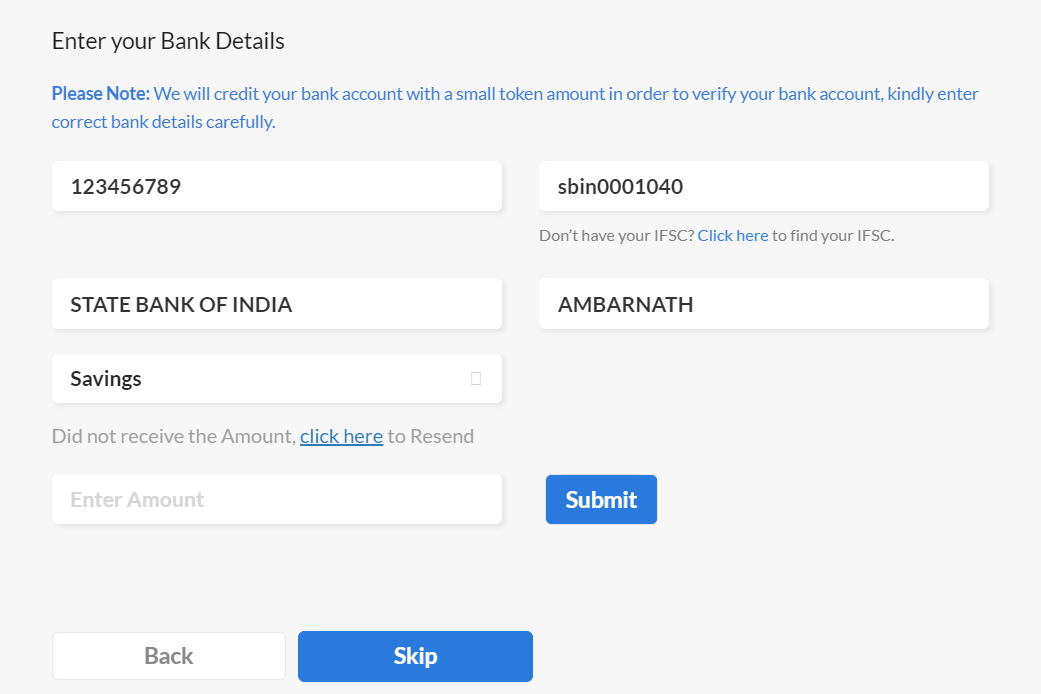 Step 9: Choose the segment/ instruments in which you wish to operate. With Samco's 3-in-1 account, you can even hold mutual fund units in your demat account.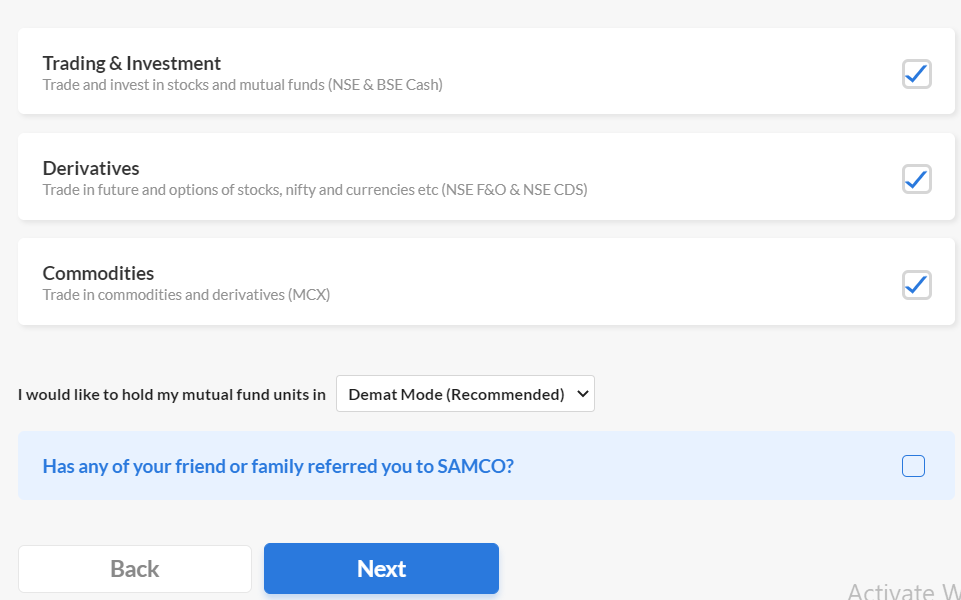 Step 10: Upload the mandatory documents where required.
Keep the photocopies of the following documents handy while opening account:
Photograph
PAN
Bank Proof (Cancelled cheque/ Passbook Front Page)
Address Proof (Aadhar Card/ Electricity Bills/ Ration Card/ Phone Bills/ Voter's ID)
Income Proof (Bank Statement/ Demat Holdings Statement/ Form-16)
Signature (Should match the one on PAN)
You may upload the documents in either jpg or pdf format.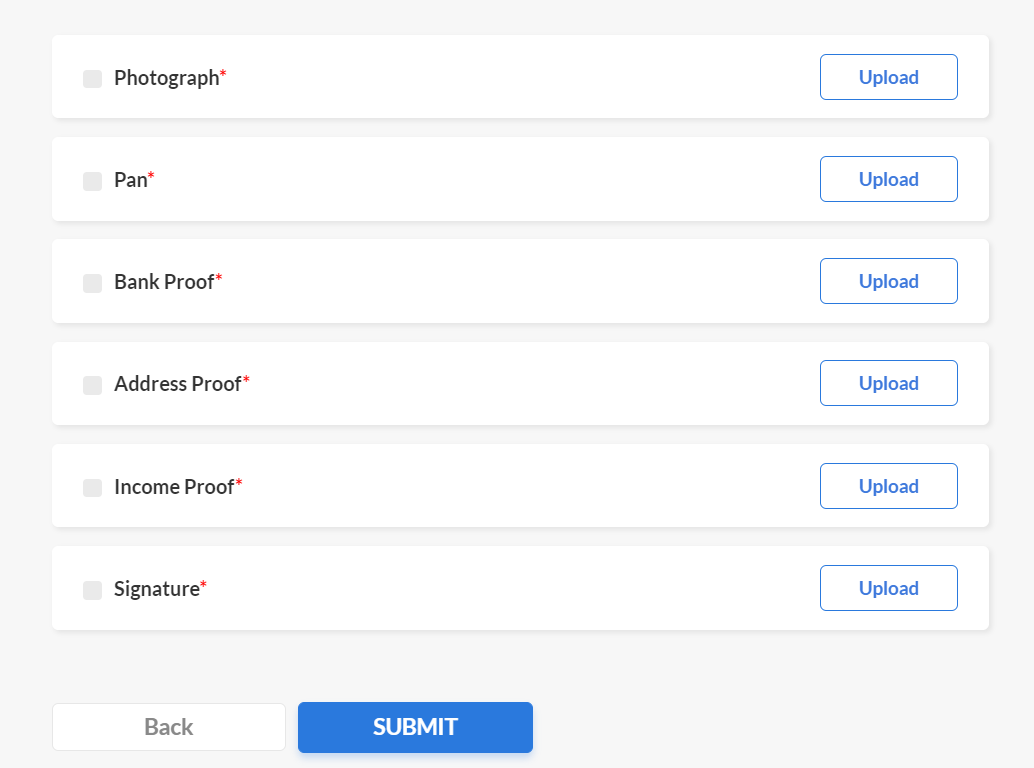 Note:
If your bank verification is successful in the previous stage (vide step 9), you need not upload the bank proof.
For an F&O account, please submit the latest 6-month bank statement as the income proof.
Step 11: Review your submitted details and digitally sign your trading/ demat account application.
Route 1:
If you choose to proceed with the Aadhaar, you'll be redirected to the following screens.
Click on Agree and proceed to the next stage, wherein you'll need to enter the OTP received over SMS.


Route 2:
If you choose to proceed without Aadhaar verification, you need to digitally draw your signature on the e-signature pad with the help of a mouse (if you're on PC) or with your finger (if you're on your mobile phone).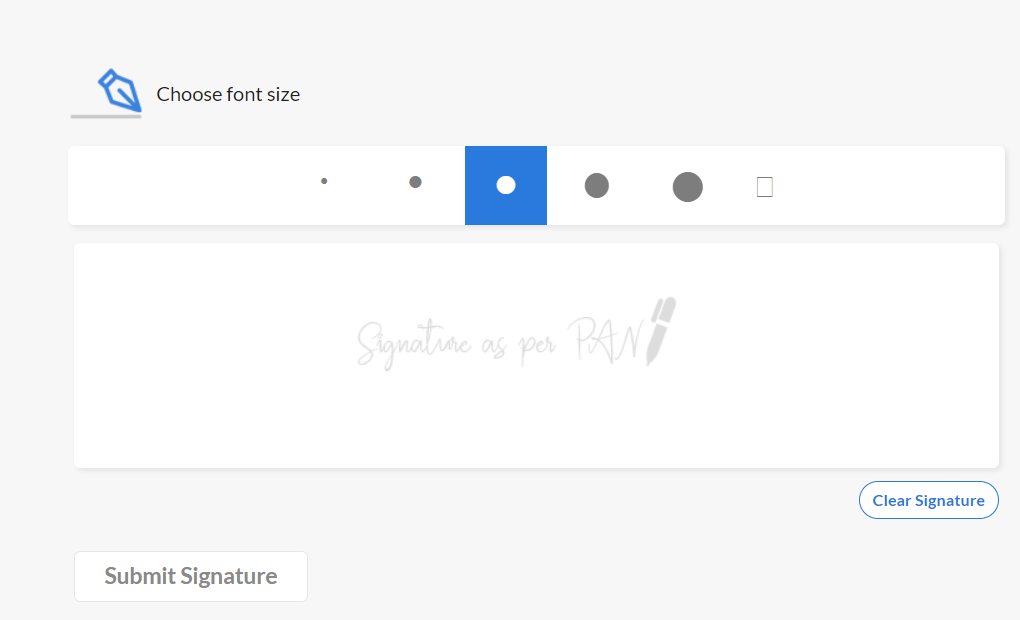 After drawing your signature, you need to place your signature within the yellow fields to digitally sign your trading/demat account form. You can simply click on the yellow boxes and your signatures will be placed instantly.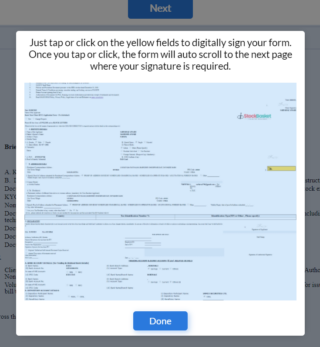 In eKYC, if a customer has already done KYC with other financial institution, the customer data is pulled online based on the basic information provided by the customer. The Aadhar eSign process provides a digital signature to your account opening form if the customer has the correct phone number linked to Aadhar and can validate that through OTP. This is the fast, safe and convenient way of opening trading and Demat account.. Here's aquick link to open your FREE account with SAMCO
2 Download Form and fill the requirement Data and send to SAMCO Office
Download Account Opening Form form www.sams co.in. fill the requirement Data with Signature. Send to SAMCO Office with required Document below
Proof Of Identity
Any one document need below list
PAN Card
UID (Aadhaar)
Driving Licence
Passport
Voter Identity Card
NREGA Job Card
Any document notified by the central government
Proof of address
: Any one document need below list as a proof of address
Passport
UID (Aadhaar)
Voter Identity Card
State issues Driving License
NREGA Job Card
Utility bill which is not more than two months old of any service provider (electricity, telephone, post-paid
mobile phone, piped gas, water bill).
Bank account or Post Office savings bank account statement.
Documents issued by Government departments of foreign jurisdictions and letter issued by Foreign Embassy or Mission in India.
Proof of bank
You'll have to show proof of the bank account that you wish to connect with your account.
3. Visit SAMCO Mumbai Office Branch
SAMCO has its corporate office at Elphinstone Road; Mumbai. You could visit SAMCO office and open account with them.
Account opening charges at SAMCO
Account opening charge: FREE )
Annual Maintenance Charge: Rs 400 per year (paid monthly)
Special Offer: Right now, Unlimited Brokerage Cash Back for 1st Month & 20 FREE Trades! Cere's aquick link to open your FREE account with SAMCO
Why Choose Upstox?
Samco could be thought of higher as in comparison with different brokers because it provides it is purchasers the very best of each world. The companies of conventional brokers at the price of low-cost brokers.
Like different low cost brokers it costs a flat payment of Rs. 20. Nonetheless, it provides all of the companies of a conventional dealer. A few of that are:
StockNote – With a ranking of 4.7 on Google PlayStore SAMCO provides India's High Rated android Buying and selling App.
Analysis – Powered by Giga Buying and selling Engine, SAMCO is India's First and Solely Low-cost Dealer to supply Analysis. Giga Buying and selling is an engine that mixes synthetic intelligence (AI), highly effective computing and analytical know-how to determine alternatives, tendencies, and patterns from the ocean known as inventory markets and current these as easy, filtered and actionable concepts.
CashPlus – SAMCO is the one low-cost dealer to supply Margin Funding by means of its product CashPlus. With CashPlus, get leverage up to 4x based mostly on the shares purchased. In easy phrases, now you can purchase shares of as much as Rs. 4,00,000 with solely Rs. 1,00,000 Money is obtainable in your buying and selling account.
StockPlus– Unlock the worth of your shares to get margin in opposition to the share you personal to for Intraday and Positional Trades. You may get buying and selling limits in opposition to your shareholdings solely to commerce throughout all segments. You possibly can provoke trades even when the Money Accessible in your buying and selling account is ZERO! There is no requirement to take care of any money/collateral ratios.
Largest Intraday Buying and selling Universe – You may make Intraday Trades in over 500+ shares with as much as 15x leverage!
Stability of Buying and selling Platforms – Multi-Channel change connectivity with failsafe's in place to make sure you're related to markets with 99.99% uptime!
Free Account Opening – Account Opening at SAMCO is free.!
100% Brokerage CashBack – Expertise the StockNote Platform and get 100% Brokerage money again for the first month on all orders positioned from the StockNote platform.
Best (Five Rules) for Successful Stock Investing