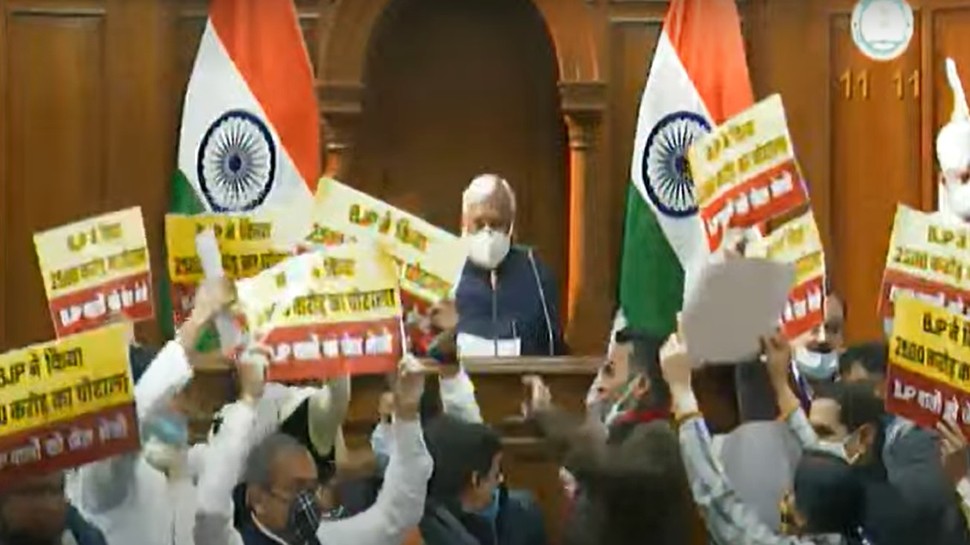 new Delhi: A special session was called in the Delhi Legislative Assembly regarding the farmers' agitation going on since 26 November in the capital Delhi. There was a lot of uproar in the assembly on the first day of the session. Today, there was a ruckus in the assembly on the second day of the special session.
MLAs shouted slogans in the house
The special session of the Delhi Assembly called for the farmers was adjourned for 15 minutes as soon as the proceedings of the house started. Aam Aadmi Party MLAs reached the house carrying banners and posters of the scam in MCD. Even before the session started, AAP party MLAs shouted slogans in the House, where they shouted slogans to send the corrupt to jail.
MLA brought tractor in the house
In protest of the Kisan Bill, Aam Aadmi Party MLA Mahendra Goyal reached the assembly with a tractor. He tried to enter the assembly with a tractor but the police stopped him outside.
Parliament paper presented on MCD scam
Aam Aadmi Party MLA Saurabh Bhardwaj presented the Parliament Papers in the Assembly on the scandal in MCD. Along with this, he also proposed a demand for a probe from the CBI in the rent waiver case in the House. The House agreed with a voice vote to discuss this proposal.
Also read: Farmers Protest: AAP MLAs including Kejriwal tore copy of agricultural bill
You are doing drama: Anil Chaudhary
Delhi Congress state president Anil Chaudhary said in a tweet, "The special session of the Legislative Assembly was called for the farmers, but here too, instead of talking seriously, the Aam Aadmi Party is using the house to misuse the drama. Delhi is grappling with many serious problems at the moment, but Arvind's focus is only on publicity and drama. "
Live tv
.